So I finally have all the parts to rebuild my axillary electrical system for the FJ Cruiser. I was using Blue Sea fuse boxes but I have found a much better box for Automotive applications. The system is being designed to run off an axillary battery system with both switched and unswitched applications. I will have a fuse box under the hood, 1 in the passenger compartment and one at the rear off the FJ.
Here is my list of systems that the auxiliary power system will control:
Under the hood:
Switched
Winch Control
Fog Lights
Rock Lights
Spot Lights / Off-Road lights
Rear Fog Lights
Inside Front Fuse Box
Inside Rear Fuse Box
Unswitched
Inside Front Fuse Box
Inside Rear Fuse Box
Master Power Solenoid
Under hood Accessory Plug (Used for work light)
Inside Front Fuse Box
Switched
Flash Light
CB Radio
Computer / GPS
Fog Light Switch
Backup light switch
Rock lights switch
Spot Lights switch
Rear Fog Lights
Unswitched
Accessory Plug
Map Lights
Inside Rear Fuse Box
Switched
Ham Radio
APRS Radio
TNC
Unswitched
ARB Fridge
Accessory Plugs
Listed here are all the parts that I will be using the rebuild the system:
8 – Carling Contura Switches (I will be adding my own decals to the switches)
2 – Daystar 4 Position Jeep Switch Panels – I will be modifying this for the FJ application.
2 – Bussmann 20 position Fuse boxes – These have 14 fuses on one bus and 6 on another.
1 – Hella 8 position fuse box x 1
2 – Blue Sea Maxi fuse holders
1- Hella 4 position relay box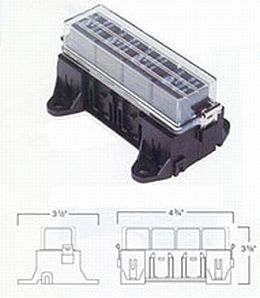 1 – Blue Sea Solenoid Model 9012. This solenoid has special electronics that cause the coil to only draw 0.13 amp to hold. This solenoid will be control the switched power.
1 – Hellroaring Technologies Battery Isolator/ Charge Controller
1 – ACS Solar charge Controller
1- 15 Watt Solar Panel
1 – Odyssey PC925 28 ah Battery