All Pro Off Road offers a full line of underbody armor. They have engineered their components to offer the best protection along with the best clearance and lowest with possible. All Pro Off-Road's collection of skids is very comprehensive offering protection for most underbody components that can be damaged by impact.
IFS Skid Plate (Covers engine):
This is the skid that I selected for my FJ Cruiser. The skid offers complete protection of the critical areas of the engine and oi8lk pan with our sacrificing approach clearance. I have taken some pretty good impacts on my skid and is has shown little deformation. The installation is very easy using existing mount points.
"
Our FJ Cruiser IFS skid plate is perfectly designed to contour the front suspension on your FJ Cruiser creating the most amount of ground clearance possible, while still protecting the suspension of the vehicle.  We have made this skid plate strong, yet relatively light weight – the perfect mix for off-road use."
Price: $269.00
Transmission Skid:This is the skid that I selected for protection of the transmission in my FJ Cruiser. The skid again takes a minimal approach and works to maintain the best possible clearance. As show in the picture, the skids is mounted off the top of the IFS skid. I have gotten hung up on this lip that the skid creates. I would prefer to sacrifice the clearance to have a smooth continuous skid. When I have the time I will be modifying this skid to attach so there is no lip."Our Transmission Skid Plate offers more clearance than our competition and all the protection you need at a fraction of the price! Made from 3/16″ steel plate, this skid is a simple bolt-on modification and cheap insurance to keep rocks out of your oil pan. The transmission skid works in conjunction with our front IFS skid plate and also bolts to the factory cross member using the included hardware."Price: $99.00
FJ Cruiser Transfer Case/Exhaust Skid Plate
This skid is also installed on my FJ Cruiser. I had problems with the initial skid that All Pro sent me bending and coming into contact with the exhaust cross member and transfer case. When I contacted All Pro they sent me, at no cost, a redesigned skid that is constructed of thicker steal. So far I have had no problems with the replacement skid.
"It's obvious that extra protection is needed when traversing vigorous trails that are beating up your new FJ Cruisers. All-Pro's heavy-duty Transfer Case/Exhaust Skid Plate protects your transfer case and exhaust cross over pipe from getting smashed by the rocks on the trail.  The skid plate is made out of heavy-duty 7 gauge cold-rolled steel plate that is mounted to 1.5" x .120 wall round steel tubing which extends to the frame rails with bolt-on backing plates.  This innovative design essentially spreads the load from any impact to the frame instead of to the transfer case, which as we know is a vital (and costly) component in four-wheeling."
Price: $329.00
Electric Locker Actuator Guard
The E-Locker is not that exposed. However I installed this skid to offer a little more peace of mind that I can't kick a rock up into the E-Locker. Call it cheep insurance. This installation is a little tricky due to the access to the bolts being very tight.
"The Toyota E-Locker is one of the FJ Cruiser owner's secret weapons off-road.  While it's hard to improve on the Toyota factory design, All-Pro Off Road has developed a new Electric Locker Guard that's a tough 3/16″  cold rolled steel skid plate that provides protection for the FJ Cruisers E-Locker actuator."
Price: $69.00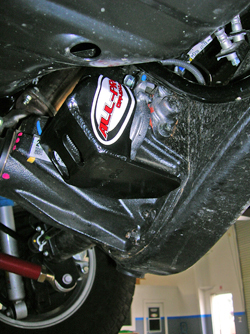 Transfer Case Shield
For more minimal protection of the Transfer case All Pro has developed this rock guard. I would consider this more minimal protection due to the fact that the impact is still taken by the transfer case. This should prevent direct damage to the exposed area.
"Let's face it – you love the way your Toyota works off-road, but would rather not destroy parts of it on the rocks!   All-Pro Off Road has developed a Transfer case shield that installs in minutes, doesn't reduce ground clearance, and affords plenty of back country peace of mind.  Bolt-on application for Toyota Tacoma 4x4s and FJ Cruisers."
Price: $59.00
FJ Cruiser Differential Armor
All Pro again takes a minimalist approach to protection of the rear differential. They are banking on the durability of the main rear axle casing. I have found that impacts to the rear differential case 2 main problems that this protection does not address. First, the paper rear differential gasket is prone to leaking cased by impacts on rocks. Second, the protective ring around the crain bolt tends to get ground off.
"Introducing our Rock Stopper Differential Armor. This unique cover, unlike other axle trusses does not hang down below the axle robbing your truck of valuable ground clearance. The Toyota axle housing is made from some pretty beefy steel and is well gusseted from the factory but the diff cover is made from thinner material and is subject to denting, perforation of the cover and oil loss. Our solution is a weld-on outer cover made from  10 guage .134″ plate steel. Our cover has two openings in the bottom to prevent water and debris from becoming trapped."
Price: $69.00
Lower Link Skids
Based on my own experience I have found these skids to be very important to protect the attachment points for the lower links.  I have these skids installed on My FJ Cruiser and I have been very happy with their performance. The one problem is that I sometimes get hung up on the skid when sliding over large ledges. However, without the skid I would still hanve up but I would also be damaging the LL attachment point.
"An area that needs protection is your frame side lower link bracket. The stock brackets are only .100 wall (less than 1/8″ thick steel) and are extremely easy to bend when contacting rocks. All-Pro's new brackets add an additional 1/8″ of protection by adding a protective glove around the link bracket. These are completely bolt-on, and will work with stock."
Price: $89.00
Lower Shock Skids
I have these installed on my FJ Cruiser. The rear axle lower shock mount is the lowest point on the axle near the tires. This skid strengthens and protects the lower shock mount point. The only problem I have found with these is that they cause water and crud to be held around the mount point which causes additional corrosion.
"Don't be caught on the trail with a broken shock or lower shock mount! The stock FJ cruiser lower shock mounts hang too low below the axle making them prone to severe damage on the trail. However, our new lower shock mount skids will save not only your shock mount but your shock as well from the rocks. Made from .150 wall tubing, they provide the ultimate protection for your shocks and lower mounts.  Skids come powder coated black."
Price: $59.00